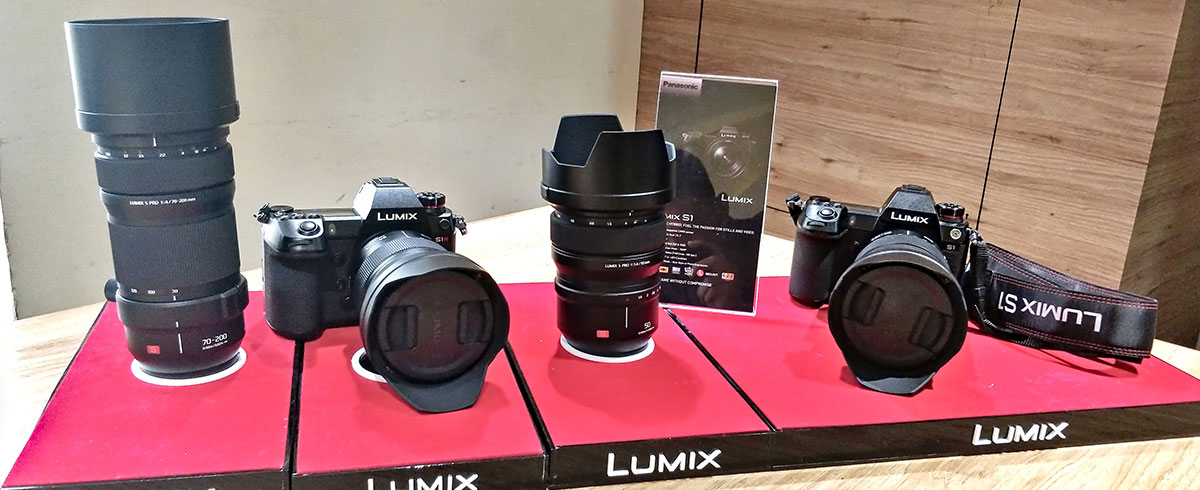 Panasonic recently invited us to a pre-launch preview of their upcoming full-frame mirrorless bodies: the S1 and the S1R. While the bodies we got to see and handle were pre-production models, they carried most of the features that will be finally released. The cameras are expected to start shipping in April and we should see detailed field reviews coming in soon after. However, here is a short summary of what's noteworthy about these bodies:
The bodies are large – larger than other FF mirrorless cameras on the market. However, that said, they feel solid and rugged to handle. The mount is a Leica L-mount, different from the MFT mount on the GHx series. The L mount is an alliance between Leica, Panasonic and Sigma. Sigma are expected to announce new lenses for this mount soon after the bodies start shipping.
The S1R carries a 47MP sensor and the S1 carries a 24MP sensor. Both bodies are identical in physical form and interface. The current lens lineup includes a 24-105mm f/4 kit lens, a 70-200mm f/4 telephoto and a 50mm f/1.4 mid-range lens.
Panasonic have introduced a HLG Photo mode that produces HSP files with a wider dynamic range that preserves shadow and highlight detail. However, as of now, these files can only be viewed on HLG-compliant devices.
A High Resolution mode allows capturing images with higher pixel count than the native resolution of the sensor. This mode shifts the sensor to capture multiple images that are then merged into one high resolution image. An image size of 96MP (S1) or 187MP (S1R) is possible in this mode.
High Speed video allows shooting 4K 60p/50p and FHD 180p/150p footage. The S1 can, with a paid software upgrade, record 4:2:2 10-bit footage internally. The paid upgrade will also enable V-Log recording.
Both these bodies come with dual card slots – one SD and one XQD slot.
A built-in IS scope allows the user to see the extent and direction of shake when shooting handheld at low shutter speeds. This is displayed as an overlay on top of the live view.
Interestingly, Panasonic have incorporated AI tech that allows these bodies to detect and track subjects such as humans, animals and birds. How well this works in practice remains to be seen.
Panasonic's tagline for these bodies is "Full Frame Without Compomise" and the features and specifications would seem to justify this label. However, the success of these bodies, in the crowded FF mirrorless market, will depend on how much these features appeal to users and how willing they are to invest in a new system!
Check the full spec sheet below:
-Abhijit Mutha,
Founder, Primes & Zooms